Reed 2G Tonearm
Advanced Cardanic Bearing Type Tonearm
The Reed 2G is the second offering in the Reed tonearm range and aims to take the technology expressed in the 1H to the next level of performance. It merges the best features of the previous Reed 2A and Reed 3Q tonearms and adds a few new innovations.
The Reed 1H has an advanced cardanic bearing system. This incorporates a vertical axis with thrust rotation bearings and a horizontal axis using thrust pivot bearings (same concept as in the Reed 3P). This bearing construction eliminates the common unwanted wobbling of a bearing during playback, which has a great impact on the quality of the sound.
Reed 2G is designed to be very easy to use, offers supreme adjustability and can be mounted to virtually any turntable with or without an adapter. As with the other Reed tonearms, the 2G features 0.2mm precision VTA adjustment and the tonearm's height can be adjusted from 28 mm to 48 mm.
All Reed 2G tonearms have a unique azimuth adjustment system, which allows accurate adjustment yet providing the facility for replacing the armwand. The replaceable armwand feature allows you to change tonearm effective length and effective mass with no hassle. For connecting the armwand and the tonearm body, a high quality LEMO connector is provided.
Typical of Reed tonearms, the Reed 2G has a replaceable headshell and the tonearm signal output wiring incorporates either a 5-pin DIN connector or a range of Finewire 37 cables. The antiskating system is magnetic, similar to the system used in the Reed 3P.
Amazingly at this pricing level, the Reed 2G is available with the laser guidance option. The laser-enabled Reed 2G version continues the tradition of the Reed 3Q and helps audio enthusiasts to set up their systems using the latest technology. The calibrated laser add-on system which can be used in this tonearm version allows the user to adjust VTA and azimuth quickly and precisely.
The Reed 2G builds on the solid foundations of the legendary tonearms that have come before it. The design, engineering and build quality is of the highest order and the sonics are impeccable. Investing in a Reed 2G gives you peace of mind that you are using one of the best executed designs that has been evolved and honed over many years. Approaching greater levels of sonic invisibility, the 2G will immerse you in pure enjoyment.
Finish Options
The pictures below are for the purposes of showing the finish options and the tonearm model may differ from the model described above.
Seashell White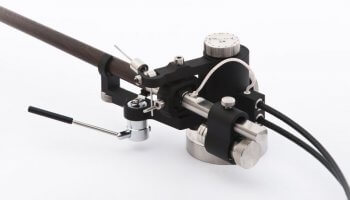 Black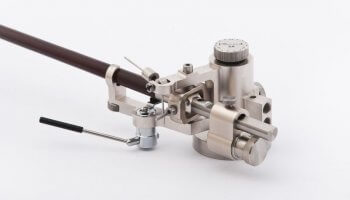 Palladium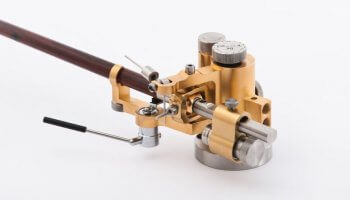 Gold Matte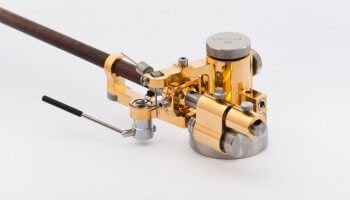 Gold Gloss
Armwand Options
Wenge

Macassar Ebony

Cocobolo

Teak Light

Teak Dark
Product Specification
Model
Reed 2G
Bearing
Advanced Cardanic
Armwand Options
Wenge, Macassar Ebony, Cocobolo, Teak Light, Teak Dark
Finish Options
Seashell White, Black, Palladium, Gold Matte, Gold Gloss
Antiskate
Magnetic system
Adjustments
Azimuth, VTA
Other Features
Replaceable Headshell
9.5" Effective Length
Mounting distance: 205.5mm
Pivot to spindle distance: 223mm
Overhang distance: 17mm
Offset angle: 22.9 degrees
10.5" Effective Length
Mounting distance: 236.1mm
Pivot to spindle distance: 251.6mm
Overhang distance: 15.4mm
Offset angle: 20.7 degrees
12" Effective Length
Mounting distance: 283.8mm
Pivot to spindle distance: 295.6mm
Overhang distance: 13.4mm
Offset angle: 17.6 degrees
Approximate Effective Mass of Reed 2G Tonearm Options
| Armwand Option | 9.5" Effective Length | 10.5" Effective Length | 12" Effective Length |
| --- | --- | --- | --- |
| Wenge | 10g | 12g | 14g |
| Macassar Ebony | 12g | 14g | 18g |
| Cocobolo | 12g | 14g | 18g |
| Teak Light | 8g | 10g | 12g |
| Teak Dark | 8g | 10g | 12g |
Links